Gold prices declined slightly Monday and for the second straight day while silver, platinum, oil and stocks gained. For the daily bullion numbers, New York gold prices declined 0.4 percent. Silver gained 0.3 percent and platinum surged 2.6 percent.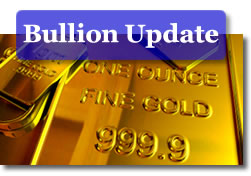 May silver climbed 3.5 cents to $13.875 an ounce.
April platinum jumped $29.10 to close at $1,143.30 an ounce
Gold for April delivery declined $3.70 to end at $952.50 an ounce.
"Gold will probably continue to follow inflation expectations in the near term, although it remains vulnerable to improved risk-asset sentiment," John Read, UBS AG analyst was quoted on Bloomberg. "Other central banks may also announce credit easing, and this could help sentiment toward gold."
In spot trading, the London afternoon gold-fixing price — a benchmark for gold traded directly between big institutions — stood at $949.25 an ounce. London silver and platinum were at $13.76 and $1,131.00, respectively.
Gold, considered a hedge during times of high inflation and economic uncertainty, tends to follow oil and move opposite to the U.S. dollar. A rising greenback makes dollar-denominated commodities, like bullion, more expensive for holders of other world currencies.
Oil and gas prices
Crude-oil for May delivery soared $1.73, or 3.3 percent, to close at $53.80 a barrel. Meanwhile, gas prices at the pump continue to climb. AAA said the average price for regular unleaded gasoline increased three-tenths of cent to $1.956 a gallon. That is nearly a nickel higher than a week ago.
U.S. Stocks
U.S. stocks rallied Monday with the Dow jumping 497 points, or 6.8 percent. The S&P soared 54 points, or 7.1 percent. And the Nasdaq surged 99 points, or 6.8 percent.
Check out additional market resources at Live Spots, the Silver Coin Melt Calculator, U.S. Mint Collector Bullion Price Guide, and the Inflation Calculator.