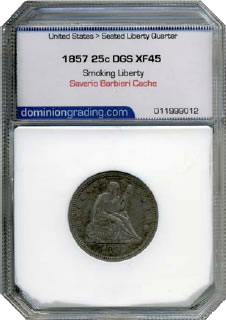 Virginia Beach, VA. ‐ In July of 2008 Ken Potter wrote an extensive and lavishly illustrated article reporting on the discovery of a most interesting and eye catching die variety found on an 1857 Liberty Seated Quarter dollar. It has since been embraced by the numismatic community and dubbed the"Smoking Liberty" variety.
Potter reported the variety was first spotted by collector John O'Hare who showed it to friend and fellow collector, Saverio Barbieri, in the early part of 2000.
So smitten by the variety was Barbieri he began an eight‐year search for more specimens. After searching an estimated 30,000+ Liberty Seated quarters of that date on eBay and shows across the country Barbieri found a total of 28 specimens bringing the known population to 29 pieces. O'Hare still has his "discovery piece" he first shared with Barbieri.
Since publication of the seemingly rare die variety Mike Ellis, senior grader and variety specialist at Dominion Grading Service (DGS) in Virginia Beach, Virginia, found one in a client's submission which was encapsulated by DGS as a lightly cleaned AU55 making it the first "Smoking Liberty" encapsulated as such.
It brought the number of known, slabbed examples to three, the first two being unattributed examples in NGC MS‐64 and NGC MS‐61. Both NGC and ANACS have since declined to attribute the coin in their holders, citing the new variety as being too much of an unknown. This is a common reaction to new varieties submitted to major grading services as they opt for more information to come to light before proceeding.
Barbieri asked PCGS, NGC, ANACS and ICG at the recently concluded FUN show in Orlando, Florida again if they were ready to attribute this really fun variety on the holder. Again they reported they were not yet ready to do so.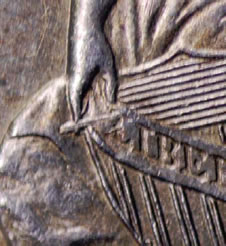 Finally, Barbieri approached DGS senior grader and well known variety specialist, Mike Ellis, if DGS was willing to attribute the coin as the "Smoking Liberty" variety. Having seen and attributed one already at DGS, Ellis examined all 28 of Barbieri's specimens agreeing to place the attribution on the holder for the raw specimens submitted.
Ellis says he has seen 29 different specimens, fully agrees it is a significant variety and, agrees the coin needs to be attributed by some name until the organizations with the authority to assign actual numbers to the variety do so. This way others who may have found examples can get them attributed in a way that the variety is identifiable by collectors and would‐be sellers alike.
At that time Barbieri submitted all 26 of his raw specimens to DGS for attribution, grading and encapsulation. Using DGS' pedigree option all 26 specimens are now known as the "Barbieri Cache."
Some of the coins have been consigned for placement in an upcoming sale by DLRC Auctions and Barbieri says he will not be offering any of the others until after these are sold so that some kind of market can be established. For details on when these coins will be offered by DLRC Auctions send an email request to coingroup@davidlawrence.com.
# # #
About DGS
DGS is a third‐party grading service founded in 2008. DGS offers a number of unique features including AuthentiView ™ and online Visual Population Report. Fees start as low as $10 per coin. Grading is conservative and accurate and problem coins (cleaned, scratch, etc) are certified with description listed on the holder. To request a sample DGS slab, please email service@dominiongrading.com, or call 1‐800‐277‐2646.