Following last Thursday's and Friday's gains, gold buckled from selling pressure on Monday to fall below $920 an ounce. Silver slid below $13 an ounce while stocks slumped to new double-digit year lows as oil surged and the U.S dollar strengthened.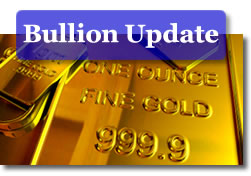 For the daily numbers, New York silver, gold and platinum futures lost 2.8 percent, 2.6 percent and 1.4 percent, respectively.
The Dow and S&P hit fresh 12-year lows, falling 1.2 percent and 1 percent, respectively. The Nasdaq dropped 2 percent.
Crude-oil for April delivery surged $1.55, or 3.4 percent, to close at $47.07 a barrel. The average price for regular unleaded gasoline declined two-tenths of cent to $1.945 a gallon, according to AAA.
March silver declined 37.3 cents to close to $12.94 an ounce.
April platinum dropped $15.00 to $1,063.700 an ounce
Gold for April fell $24.70 to end at $918.00 an ounce.
"One of the biggest drivers for gold has been equity weakness," Frank Lesh, a trader at FuturePath Trading LLC in Chicago, was quoted on Bloomberg.com. "The ETFs have not been growing. Equities aren't falling apart today. So some of that ETF money is looking at the S&P"
"The dollar was today's standout performer," wrote Jon Nadler, senior analyst at Kitco Bullion Dealers. "The current range for gold extends as low as the $900 support, and it reaches to near $950 on the upper end. The action in gold remains closely tied to the ebb and flow of confidence in other markets and appears to be on a positive correlation track with stock market goings-on."
Gold, considered a hedge during times of high inflation and economic uncertainty, tends to follow oil and move opposite to the U.S. dollar. A rising greenback makes dollar-denominated commodities, like bullion, more expensive for holders of other world currencies.
In spot trading, the London afternoon gold-fixing price — a benchmark for gold traded directly between big institutions — stood at $923.75 an ounce. London silver and platinum were at $13.36 and $1,064.00, respectively.
Check out additional market resources at Live Spots, the Silver Coin Melt Calculator, U.S. Mint Collector Bullion Price Guide, and the Inflation Adjuster.