Gold retreated further Tuesday from the $1,000 an ounce peak it reached Friday, and fell for the second straight session. New York silver, gold and platinum futures declined 2.6 percent, 3.1 percent and 2.9 percent. Oil surged 4.0 percent while the Dow, S&P and Nasdaq rallied 3.2 percent, 4.0 percent and 3.9 percent, respectively.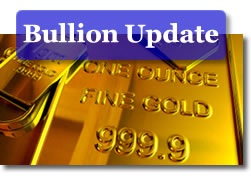 April crude-oil gained $1.52 to close at $39.96 a barrel. AAA said the average price for regular unleaded gasoline fell a penny to $1.90 a gallon.
March silver tumbled 45.5 cents to close to $13.995 an ounce.
April platinum fell $30.80 to $1,048.70 an ounce
Gold for April delivery dropped $25.50 to end at $969.50 an ounce.
"Gold prices fell sharply on Tuesday as speculative funds took flight once it became apparent that a third pole vault to levels above $1K was not in the cards for the week," said Jon Nadler, senior analyst at Kitco Bullion Dealers. "The alarm we rang one week ago today, about the lack of corrective action in gold since Feb. 9, well,…ring it did."
"Gold and other precious metals should continue to receive inflows of investment due to their ongoing out performance of other asset classes," Tom Pawlicki, an analyst at MF Global Ltd. in Chicago, was quoted on Bloomberg.com. "Support will continue to come from disappointment in efforts to stem the financial crisis, and the weakness in the stock market that has resulted."
Gold, considered a hedge during times of high inflation and economic uncertainty, tends to follow oil and move opposite to the U.S. dollar. A rising greenback makes dollar-denominated commodities, like bullion, more expensive for holders of other world currencies.
In spot trading, the London afternoon gold-fixing price — a benchmark for gold traded directly between big institutions — stood at $984.25 an ounce. London silver and platinum were at $14.39 and $1,064.00, respectively.
Check out additional market resources at Live Spots, the Silver Coin Melt Calculator, U.S. Mint Collector Bullion Price Guide, and the Inflation Adjuster.