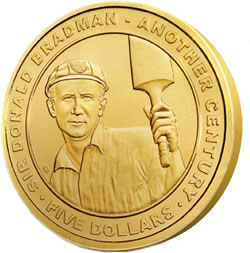 For a number of years Cricket ACT has been using the same coin in the coin toss at the Prime Minister's XI cricket match in Canberra. This year will be different.
The coin tossed today is a collectible from the Royal Australian Mint and celebrates what would have been Sir Donald Bradman's greatest century of all, his 100th birthday.
"It is a great pleasure to see the coin being used in such a monumental event," Royal Australian Mint's Acting Chief Executive Officer Graham Smith said.

"Most people at the PM's XI would agree that Sir Donald Bradman is a true inspiration to all sportsmen and he played an important role in the development of the game and shaping this nation."
The collectible coin was released in July 2008 in partnership with the Bradman Foundation and depicts The Don giving the crowd his customary salute after scoring a century.
The Royal Australian Mint has been undergoing the most substantial upgrade to its facilities since its original construction in 1965. The refurbished Mint will offer a modern and innovative visitor experience for the 200,000 people who visit the Mint each year.
The Mint is open to the public from 9am to 4pm on weekdays, and 10am to 4pm on weekends and public holidays, except Christmas Day and Anzac Day.
For more information or to purchase this coin please visit the Mint (Denison Street, Deakin ACT) or alternatively visit www.ramint.gov.au or call 1300 652 020.
[Editor's note: News release was issued by Royal Australian Mint on Jan. 29.]
# # #
About the Royal Australian Mint
His Royal Highness, The Duke of Edinburgh, officially opened the Royal Australian Mint, Canberra, on Monday 22nd February 1965. The Mint was commissioned to produce Australia's decimal coinage, which was to be introduced into circulation on 14th February 1966. The Royal Australian Mint holds a place in history as the first mint in Australia not to be a branch of the Royal Mint, London.
Since opening in 1965 the Mint has produced over eleven billion circulating coins and has the capacity to produce over two million coins per day, or over six hundred million coins per year.
The Royal Australian Mint has struck coins for a number of South Pacific nations. Export coins were first struck in 1969 for New Zealand and, since then, coins have been produced for Papua New Guinea, Tonga, Western Samoa, Cook Islands, Fiji, Malaysia, Thailand, Nepal, Bangladesh, Israel and Tokelau.