Gold fell for the second straight day on Tuesday and moved below $900 an ounce, furthering its distance from the six-month high set on Friday. The yellow metal ended down despite weakness in the U.S. dollar and a day of rising oil prices. New York silver, gold and platinum futures lost 0.9 percent, 1.6 percent and 1.6 percent, respectively.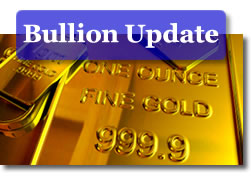 March crude-oil gained 70 cents, or 1.7 percent, to close to $40.78 a barrel. The average price for regular unleaded gasoline climbed a penny to $1.89 a gallon, according to AAA.
March silver lost 11.5 cents to close at $12.30 an ounce.
April platinum slipped $15.60 to $963.50 an ounce.
Gold for February dropped $14.70 to settle at $892 an ounce.
"Gold was overbought technically. Traders have had very places to make money from the long side and it came time to take something off the table in gold," Peter Grandich, a metals writer at Agoracom, an online marketplace for the small-cap investment community, was quoted at MarketWatch.
"Investment has been a key supporting factor for gold," Tom Pawlicki, an analyst at MF Global Ltd. in Chicago, was quoted over at Bloomberg. "Passage of the stimulus package in its current form would likely be inflationary and bullish for gold while a Senate filibuster would be bearish."
In spot trading, the London afternoon gold-fixing price — a benchmark for gold traded directly between big institutions — stood at $904.50. London silver and platinum were at $12.37 and $963, respectively.
Gold, considered a hedge during times of high inflation and economic uncertainty, tends to follow oil and move opposite to the U.S. dollar. A rising greenback makes dollar-denominated commodities, like bullion, more expensive for holders of other world currencies.
Check out CoinNews market resources at Live Gold Spots, the Silver Coin Calculator, U.S. Mint Collector Bullion Coin Prices, and the Inflation Calculator.