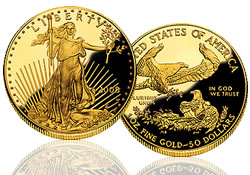 The United States Mint's inventory of 2008 American Eagle Proof Coins is close to depletion, with the last one-tenth ounce options still for sale but wavering.
Late Thursday and much of Friday morning the coin was listed as unavailable. It then returned around noon (ET) to the Mint's online store at its normal $162.95 price.
11,319 of the individual one-tenth ounce proofs have been sold, according to the latest Mint sales figures. That is an increase of 422, or 3.9 percent, over the previous reported numbers.
Like the final remaining 2008-dated American Eagle gold and silver uncirculated options, the one-tenth ounce proof has a delayed shipping notice of 1/24/2009. Based on past such back order notices from the Mint's online store, there is an increased potential that these coins may not be for sale too much longer.
The one-quarter ounce proof gold eagle option sold out Monday and had experienced massive demand in its last few weeks. The newest Mint figures show sales increased to 14,795 coins. That is up 8,722 coins, or 144 percent, over the previous report.
View the updated US Mint gold, silver and platinum coin price guide for the latest sales figures, Mint pricing and product links.