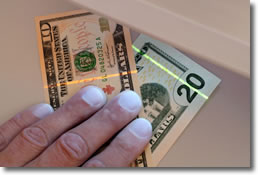 Counterfeiting money — one of the oldest crimes in history — has now trended to a new five-year high, according to the Secret Service who has exclusive jurisdiction in protecting US currency.
While no where near a historical peak set during the Civil War when one-third to one-half of notes were counterfeit, fake bills in 2008 accounted for some 64.4 million dollars. That marks a 5 percent increase over 2007 and a new level not seen since 2004.
For a perspective, the Bureau of Engraving and Printing (BEP), which prints US money, reported banknote production figures totaling $18.8 billion in November, $11.1 billion in October and $4 billion in September. $64.4 million in bogus bills may seem small in comparison, but it is not inconsequential.
The government's latest round of counterfeit numbers were reported by USA Today where Brian Marr, special agent in charge of the Little Rock Secret Service field office, said:
"It's not just the criminal element, but we're also seeing more students that maybe use a counterfeit $20 bill to buy pizza or someone trying to do it to purchase gas to get to work."
Marr says counterfeit money escalated this year when gas prices hit record highs. Actual counterfeit arrests have surged 28 percent over 2007.
Modern photographic and printing equipment has made it quicker and easier to produce large quantities of counterfeit currency. The Secret Service recommends visiting its resource page, How to Detect Counterfeit Money, to learn about how to guard against forgery losses.