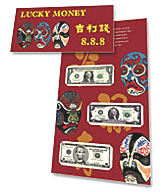 The U.S. Bureau of Engraving and Printing (BEP) on Wednesday launched its "Lucky Money 8.8.8 Set," the latest addition to its "Lucky Money Collection."
The set includes three notes with matching serial numbers beginning with "8888" — each has an eight-digit number. The Federal Reserve notes are crisp uncirculated, encased in a protective clear acid-free polymer sleeve, and include:
Series 2006 $1,
Series 2003A $2, and
Series 2003 $5
The number "8" is traditionally associated with success, wealth and prosperity in Asian cultures. The date only occurs once every 100 years.
The BEP has limited the sale to just 8,888 sets, and a limit of 25 per household. Each has a price of $48.88. More information and ordering details may be found on the BEP page:
The BEP indicates the 25 limit will be lifted after December 9, if sets remain.