Gold moved slightly lower Tuesday as oil plunged. The yellow metal fell for the first time in five sessions following Monday's 9.2 percent surge. New York gold futures dropped 0.1 percent while silver declined 0.8 percent. Platinum managed to climb 0.6 percent.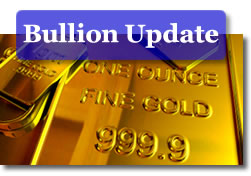 January crude-oil gave up most of its earlier gains, falling $3.73, or 6.8 percent, to close to $50.77 a barrel. AAA said the average price for unleaded gasoline declined another 2 cents to $1.885 a gallon.
December silver declined 8.5 cents to close to 10.27 an ounce.
January platinum gained $5.20 to settle at $871.60 an ounce.
Gold for December lost $1 to close to $818.50 an ounce.
"Gold values meandered for most of the day, unable to overcome the $830's for a second time, but unwilling to slip to under $800 either. Not so long as the dollar showed a 0.87 point decline on the index," said senior analyst Jon Nadler at Kitco Bullion Dealers.

"For now, the market game remains focused on the question of deflationary pressures managing (or not) to overpower emerging Japanese-style rhetoric from certain quarters about "desirable levels of inflation" and about "quantitative easing" (read: zero interest rate conditions)," added Nadler.
In related precious metals news, the United States Mint told its authorized dealers on Monday that its 2008-dated bullion coin inventory has been depleted, with the exception of the American Eagle Gold One-Ounce and American Eagle Silver One-Ounce Bullion Coins.
Gold, considered a hedge during times of high inflation and economic uncertainty, tends to follow oil and move opposite to the U.S. dollar. A rising greenback makes dollar-denominated commodities, like bullion, more expensive for holders of other world currencies. When prices are falling and economic activities are shrinking, gold prices tend to move lower.
Check out CoinNews market resources at Live Silver, Gold & Platinum Spots, the Silver Coin Calculator, U.S. Mint Collector Bullion Coin Prices, and the Inflation Calculator.