Precious metals rallied with joy Friday despite a strong U.S. dollar and falling oil prices. New York silver, gold and platinum futures surged 7.8 percent, 5.3 percent and 3.9 percent respectively.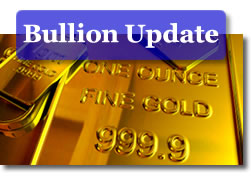 December crude-oil lost more than half of Thursday's gain, falling $1.30, or 2.2 percent, to close to $57.05 a barrel. According to AAA, the good news for consumers is the average price for unleaded gasoline fell to $2.15 a gallon — a far cry from its $3.13 average just a month ago.
December silver regained all of Thursday's loss, plus a penny, rising 69 cents to end at 9.49 an ounce.
January platinum rose $32.10 to settle at $845.10 an ounce.
Gold for December surged $37.50 to close to $742.50 an ounce.
"New York's Friday session managed to bring gold into the winning column for the week, with futures gaining $37 and spot prices rising $14 to $750.00 per ounce," said senior analyst Jon Nadler at Kitco Bullion Dealers.

"The gains came despite a smallish drop in the Dow, a $1 slide in crude oil, and a dollar that kept on the plus side, at 86.60 on the index. Thus, a commendable performance overall," added Nadler.
Gold, considered a hedge during times of high inflation and economic uncertainty, tends to follow oil and move opposite to the U.S. dollar. A rising greenback makes dollar-denominated commodities, like bullion, more expensive for holders of other world currencies. When prices are falling and economic activities are shrinking, gold prices tend to move lower.
Check out CoinNews market resources at Live Silver, Gold & Platinum Spots, the Silver Coin Calculator, U.S. Mint Collector Bullion Coin Prices, and the Inflation Calculator.