New York gold futures marked a second straight positive day on Monday by gaining 1.7 percent. Silver and platinum fell 1.1 and 0.6 percent, respectively. After last week's 11 percent drop, crude continued downward losing 1.4 percent.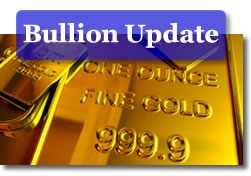 December oil fell 93 cents to close at $63.22 per barrel, marking its lowest level since May of 2007.
December silver fell 10 cent to close at $9.20 an ounce.
January platinum lost $5.10 to end at $797.20 an ounce. The precious metal is now at a level not seen since November of 2003 and is quickly approaching the price of gold.
Gold for December gained $12.60 to settle at $742.90 an ounce. Although it has climbed for two consecutive days, the yellow metal has fallen in ten out of the past twelve sessions and lost 7.3 percent last week.
"Gold prices dipped to a low of $705 overnight, driven by the now familiar fund liquidations that have gripped markets since the advent of the credit crunch bailout package," said senior analyst Jon Nadler at Kitco Bullion Dealers.
"Depending on whose opinions one takes into account, gold could decline further, stay in the current range ($650 to $850) or shoot for the moon when and if the current solutions to the credit crisis give rise to hyper-inflation," added Nadler.
Gold typically follows oil's direction and moves opposite to the U.S. dollar, as a weakened dollar encourages investors to buy gold, also normally considered a hedge or safe-haven during times of high inflation and economic uncertainty.
Check out CoinNews market resources at Live Silver, Gold & Platinum Spots, the Silver Coin Calculator and the Inflation Calculator.