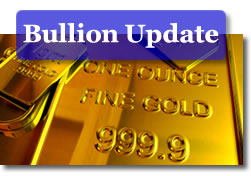 Gold snapped its pessimistic losing streak on Monday, digging ever so slightly out from a seven-day tomb of death. The yellow metal finally made a stand and rose above the turmoil with oil prices. New York silver, gold and platinum futures gained 3.7 percent, 0.3 percent, and 1.3 percent, respectively.
November crude posted its second straight session gain, rising $2.40, or 3.3 percent, to close at $74.25 per barrel.
December silver rose 35 cents to close at $9.69 an ounce.
January platinum gained $11.50 to end at $892.50 an ounce.
Gold for December climbed $2.30 to settle at $790 an ounce.
"Following the worst weekly rout in over two months, gold prices enjoyed a sunny [morning] start to the new week and bounced as high as $810 on the back of a slightly weaker dollar and a near $2 gain in crude oil values," said senior analyst Jon Nadler at Kitco Bullion Dealers.

"Monday's gold price action did not pick up the pace until well after the close of futures trading. December gold rose $2.30 on the day, but was still confined to values under $800 as the US dollar continued to march higher… Crude oil provided support as prices rose on anticipation of OPEC supply cuts in the face of global demand slumping," added Nadler later in the afternoon.
Gold typically follows oil's direction and moves opposite to the U.S. dollar, as a weakened dollar encourages investors to buy gold, also considered a hedge or safe-haven during times of high inflation and economic uncertainty.
Check out CoinNews market resources at Live Silver, Gold & Platinum Spots, the Silver Coin Calculator and the Inflation Calculator.