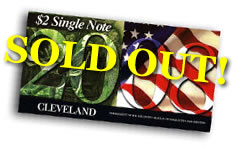 The 2008 Cleveland First Day $2 Single Notes went on sale Wednesday at 7:30 A.M. EDT, and were gone within hours. "Sold-Out" was the Bureau of Engraving and Printing (BEP) message that customers saw online Wednesday morning.
With the Cleveland notes having a limited 10,000 quantity, and each in crisp, uncirculated condition with a beginning serial number of "2008xxxxD," the banknotes were quickly grabbed up — just as this year's previous Atlanta, New York, San Francisco, Chicago, Dallas and Richmond collector $2 offerings.
The Cleveland note had extra elements of drama, however. Its sale and that of the Philadelphia $2 were delayed, and then skipped over "due to system maintenance" improvements.
Paper money collectors will now have to wait for the re-release of Philadelphia $2 notes. The banknotes have a limit of 25 units per household and will be available on Monday, October 20, at 7:30 A.M. EDT.