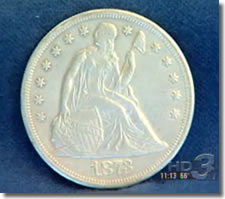 A 1873-CC Seated Liberty silver dollar may have saved a couple in Parma, Ohio from losing their home. According to WKYC-TV, the couple brought the extremely rare coin to Jim Matiach for an appraisal.
Matiach, President of Coin and Jewelry Buyers of America, had good news.
"We sat down and we were able to negotiate a price and he walked away with enough money to pay off some of his bills and hopefully be able to keep his house," says Matiach.
Only 2,300 of the Carson City Seated dollars were minted, and far fewer are believed to remain. Why the low mintage? In 1873, the Carson City Mint turned its attention toward producing newer silver coins called Trade dollars.
Even in lessor grades, a 1873-CC Seated Liberty silver dollar can be worth many thousands of dollars.