New York Gold tumbled early but recovered to register a small gain as oil prices climbed on concerns that Hurricane Gustav could threaten oil production in the Gulf.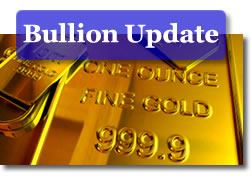 Crude oil for October finished up $1.16 to $116.27 a barrel.
Silver for September gained 11 cents to close to $13.58 an ounce.
October platinum dropped 1% to end at $1,421 an ounce.
December gold shook off earlier losses to climb $2.40 to close at $828.10 an ounce, sharply higher than its intraday low of $812 an ounce.
"Just as gold conspiracy agitators were ready to declare another day of 'curious' bloodletting in the bullion markets, things turned around and surprised them," said senior analyst Jon Nadler at Kitco Bullion Dealers.

"As Hurricane Gustav started to register as the threat it might become to the Gulf, energy traders slapped a quick $2 premium on the price of a barrel of dino juice, and …presto! Market recovery," continued Nadler.
Gold typically follows oil and moves opposite to the dollar, as a weakened dollar encourages investors to buy gold, also considered a hedge during times of high inflation and economic uncertainty.
Check out CoinNews market resources at Live Silver, Gold & Platinum Spots, Silver Coin Calculator and the Inflation Calculator.