New York silver and platinum rallied sharply Thursday with each rising over 5%. Gold shined as well moving up 2.8%. A soft U.S. dollar that was tripped by financial worries and rebounding crude-oil prices were cited as precious metals catalyst shakers.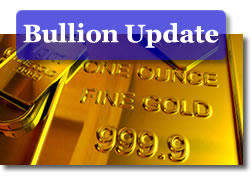 October crude-oil gained for the third consecutive session, rising an impressive $5.62 to close at $121.18 a barrel.
Silver for September gained 5.3%, rising 68.7 cents to close to $13.74 an ounce.
October platinum rose sharply by $89.90 to end at $1,458.80 an ounce — a 5.1% increase.
December gold gained a firm $22.70 to close at $839 an ounce.
"Commodities found a bright patch of sunshine in the midst of today's storm of financial news and related fears. In fact, they had quite a party," said senior analyst Jon Nadler at Kitco Bullion Dealers.

"Credit problem cold shivers once again went up and down the spines of investors as the parade of names on their minds was quite familiar: Freddie & Fannie, Lehman, Goldman, Morgan," continued Nadler.
Sources of economic jitters include reports that U.S. leading economic indicators fell 0.7% in July reflecting slow growth, and concern in the financial sector that a federal bailout may be needed as Fannie Mae and Freddie Mack stocks near historic lows.
Gold typically follows oil and moves opposite to the dollar, as a weakened dollar encourages investors to buy gold, also considered a hedge during times of high inflation and economic uncertainty.
Bullion spots are available on the CoinNews page, Live Silver, Gold & Platinum Spots. Check how the value of the US dollar has changed over time on the CoinNews page, Inflation Calculator.