New York gold stretched its losing streak to eight consecutive days on Tuesday with a fall of more than $100 in August. Platinum took a body blow and staggered with a fall of $56. Both metals are at their lowest level since December of 2007.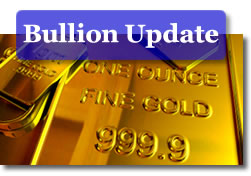 Gold had recovered somewhat earlier Tuesday, until a rallying US dollar spooked investors away from the yellow metal.
Silver for September lost 13.5 cents to close to $14.49 an ounce.
October platinum tanked by $56.70, falling to $1,478.80 an ounce.
December gold dropped another $13.70 to close at $814.60.
"Showing no signs that it has found a near-term bottom, gold continued to lose ground for an eighth session today, erasing its year-to-date gains, plunging to a low of $801.90 per ounce, and turning into bear territory," said senior analyst Jon Nadler at Kitco Bullion Dealers.

Gold is now off 29% from the March peak of $1033.90 and 23% from the recent $989 peak of July 15."
A stronger U.S. currency makes commodities — like gold and platinum — priced in dollars more expensive for holders of other currencies.
Bullion spots are available on the CoinNews page, Live Silver, Gold & Platinum Spots.