Precious metals continued their downward turn Monday with gold hitting is cheapest level since December of 2007. Declining oil prices — now $114.45 a barrel — and strength in the US dollar were the cited reasons.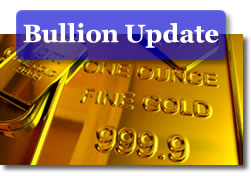 Silver for September was battered around, sliding 71 cents to close to $14.62 an ounce.
October platinum decreased by $24.10, falling to $1,535.50 an ounce.
December gold dropped sharply to $828.30 an ounce, losing $36.50 and 4.2%. That, after its previous weekly loss of almost 6%.
"Following a half-hearted recovery attempt that never really got much traction, gold prices suffered an even greater wash-out than last Friday's disastrous run to the downside," said senior analyst Jon Nadler at Kitco Bullion Dealers.

The former all-time high of $845 not only did not appear to have any significant support to lend, but the metal sank to a low of $818.20 basis spot dealings – a $38.00 body blow that may be very difficult to recover from."
Jonathan Jossen, a COMEX floor trader in New York said the yellow metal could test $780 an ounce in the near term as "everybody's trying to get out the doors."
Gold typically moves opposite of the dollar, as a weakened dollar encourages investors to buy gold, also considered a hedge during times of high inflation and economic uncertainty. A rising greenback also makes commodities like silver, gold and platinum, more expensive for overseas investors.
Bullion spots are available on the CoinNews page, Live Silver, Gold & Platinum Spots.