Dallas, TX: Heritage Auction Galleries' upcoming Long Beach Currency Signature Auction, to be held September 17-19, 2008, will be anchored by the impressive Jupiter Collection.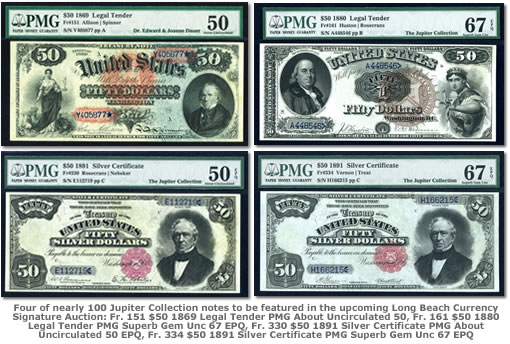 "The collection contains a total of fifty-nine Large Size Type Notes and 11 Small Size High Denomination Notes, as well as a partial pack of twenty-five Large Size Federal Reserve Notes," said Dustin Johnston, Consignment Director for Dallas-based Heritage.

"It was assembled by a collector with astute attention to quality and rarity. No note was added to the collection unless it was fully Gem in quality, one of the finest available for the type, or exceedingly rare."
"In a market red hot for ultra rarities, The Jupiter Collection is chock full of them," Johnston said. "The Fr. 1219b Series 1907 $1,000 Gold Certificate with the Napier-McClung Signature combination is unique and is graded PMG Very Fine 25.

Another unique gold certificate, the 1192a 1882 $50 Gold Certificate PMG Very Fine 25 will also be offered. Though one of two known Fr. 1175 s, the PMG graded Choice Fine 15 1882 Gold Certificate outshines the other known note, not for grade, but for boasting the Serial Number A1.

Another Serial Number 1 example, in the Jupiter Collection, the Fr. 871a 1914 $5 Federal Reserve Note, will stir collector interest as it is the only Blue Seal Serial Number One."
Johnston continued, "Many of the notes in the collection that are usually considered 'common' are actually condition rarities. The focus on condition rarity for more commonly available notes is well illustrated by the Fr. 334 $50 1891 Silver Certificate. The note resides in a PMG Superb Gem Unc .

67 EPQ holder and remains the only Superb graded $50 Silver Certificate by either PMG or PCGS. In total thirty pieces sit atop the combined population reports at PMG and PCGS, and nearly a third of them have no equal yet graded by either service."
A partial list of highlights from The Jupiter Collection:
Fr. 151 $50 1869 Legal Tender PMG About Uncirculated 50:
Fr. 161 $50 1880 Legal Tender PMG Superb Gem Unc 67 EPQ:
Fr. 330 $50 1891 Silver Certificate PMG About Uncirculated 50 EPQ:
Fr. 334 $50 1891 Silver Certificate PMG Superb Gem Unc 67 EPQ:
Fr. 377 $100 1890 Treasury Note PMG Choice Extremely Fine 45:
Fr. 871a $5 1914 Federal Reserve Note PMG Gem Uncirculated 65 EPQ:
Fr. 1133 $1000 1918 Federal Reserve Note PCGS Very Choice New 64PPQ:
Fr. 1175 $20 1882 Gold Certificate PMG Choice Fine 15:
Fr. 1192a $50 1882 Gold Certificate PMG Very Fine 25:
Fr. 1217 $500 1922 Gold Certificate PMG Choice Very Fine 35 EPQ:
Fr. 1219b $1000 1907 Gold Certificate PMG Very Fine 25:
Fr. 1220 $1000 1922 Gold Certificate PMG About Uncirculated 55:
Fr. 2230-F $10000 1928 Federal Reserve Note. PMG Choice Extremely Fine 45:
Fr. 2231-K $10000 1934 Federal Reserve Note. PMG Choice Uncirculated 63 EPQ:
Fr. 2221-E $5000 1934 Federal Reserve Note. PMG Gem Uncirculated 65 EPQ:
Fr. 2407 $500 1928 Gold Certificate. PMG Gem Uncirculated 66 EPQ:
All of the lots are illustrated in color on the Heritage web site, which may be found at www.HA.com/Currency.
If you are interested in selling your collection in this greatly anticipated auction, contact one of our Currency Specialists at 1-800-872-6467, Ext. 1001.
About Heritage Auction Galleries
Heritage Auction Galleries is the world's third largest auction house, and by far the largest auctioneer of rare collectibles, with annual sales over $600 million, and 375,000+ registered online bidder members. For more information about Heritage's auctions, and to join and gain access to a complete record of prices realized, along with full-color, enlargeable photos of each lot, please visit www.HA.com.
# # #