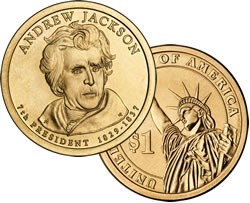 The United States Mint will begin circulating the latest Presidential $1 coin featuring Andrew Jackson on August 14, 2008.
The Mint has announced that a ceremonial introduction of the dollar coin will occur at The Hermitage, the home Jackson built and lived in near Nashville, Tennessee.
Over 15 million people have visited The Hermitage since its opening as a museum in 1889. Visitors on Aug. 14 will experience a once in a lifetime event as the seventh coin in the Presidential $1 coin program is officially released.
United States Mint Deputy Director Andrew Brunhart will join Richard Cowart, the past regent of The Hermitage Board of Directors, on the front lawn of the historic mansion for the release ceremony. Children under 18 years of age will receive a free Andrew Jackson Presidential $1 Coin while others may exchange money for one or more.
Andrew Jackson served two terms in office from 1829 to 1837. He was the first Tennessean to serve in the U.S. House of Representatives. He was also the first person to serve as a US Representative, Senator, and President. And unlike all other Presidents, Jackson left office while there was zero national debt.
The release event will begin 10 a.m. CT on Thursday, August 14, 2008.
The Hermitage is located at:
4580 Rachel's Lane
Nashville, Tennessee 37076
(615) 889-2941
(See Google map of The Hermitage)
According to the U.S. Mint, more than one billion Presidential Dollar Coins have already been issued.