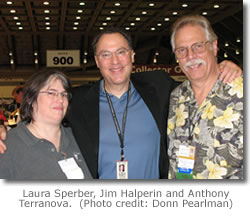 (Baltimore, Maryland) – Two prominent rare coin dealers jointly bid a total of $12,650 (including buyer's premium) to have lunch with Heritage Auction Galleries Co-Chairman, best-selling author and acclaimed numismatic authority, Jim Halperin.
Conducted in conjunction with Heritage's official auction of the American Numismatic Association World's Fair of Money® convention in Baltimore on "Platinum Night," July 31, 2008, all proceeds of the winning bid and commission will be donated to ANA education programs.
The highest bid came from Anthony Terranova of New York City and Laura Sperber of Legend Numismatics in Lincroft, New Jersey.
Terranova humorously explained: "I've known Jim for 35 years, and I didn't want him to have to have lunch with strangers."
Sperber stated: "I'm glad I could help benefit the ANA, a worthy organization that I've supported for many years and will continue to do so."
The $12,650 donation will be used for improving numismatic resources on the ANA web site, including the successful Coins in the Classroom project that is used by teachers nationwide.
The time and place for the lunch with Halperin have not yet been decided.
Former ANA Vice President, Scott A. Travers of New York City, suggested the fund-raising auction after exchanging e-mails with Halperin about a recent $2.11 million charity auction involving a lunch date with renowned investor, Warren Buffett.
In 2000 and again in 2001, Halperin and a friend, Scott Tilson, were the high bidders at charity auctions for lunch with Buffet with winning bids of $20,000 the first year and $30,000 the next.
"That winning bid for lunch with me is 1/167th of the high bid ($2.11 million) in the most recent auction to have lunch with Buffett.

In my opinion, compared to the Buffett lunch I'm severely overpriced," said Halperin. "But I'm ready to say the magic words for Tony and Laura, 'Check, please!'"
For additional information, contact Heritage Auction Galleries at (800) 872-6467 or online at www.HA.com.
# # #
About Heritage Auction Galleries
Heritage Auction Galleries is the world's largest collectibles auctioneer. Our 353,061 members are a testament to our reputation for professional business practices and unprecedented knowledge in the field of collectibles. Our mission is to provide the Internet's most indispensable trading platform and source of information for serious collectors, investors and dealers.