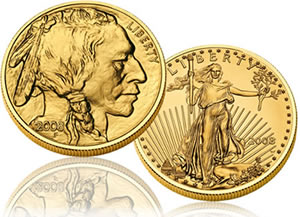 The United States Mint today announced the introduction of a new coin product named the 8-8-08 Double Prosperity Set. The set includes two, uncirculated one-half ounce gold coins — the 22-karat American Eagle and the 24-karat American Buffalo.
The two-coin set is priced at $1,298.95, and will go on sale at the Mint's online website on August 1, 2008 at noon (ET).
The prosperity set is the second offering in the United States Mint Celebration Series, which is an experimental program to explore the viability of coins "that are packaged and positioned to celebrate special gift-giving occasions and celebratory events."
The Mint's first product in the series was launched in February to celebrate the 2008 Lunar New Year with an American Buffalo 2008 Celebration Coin.
According the Mint, the number "8" is traditionally associated with prosperity in Asian cultures. 8-8-08, or the triple "8", only comes around once every 100 years.
The American Eagle gold coin obverse features Augustus Saint-Gaudens' full-length figure of Liberty with flowing hair, holding a torch in her right hand and an olive branch in her left. The reverse design, by sculptor Miley Busiek, features a male eagle carrying an olive branch flying above a nest containing a female eagle and her eaglets.
The American Buffalo gold coin features the classic portrait of a Native American in profile on the obverse and the magnificent American Buffalo, or bison, on the reverse. Noted American sculptor James Earle Fraser, a student of Augustus Saint-Gaudens, originally prepared both images for the redesigned nickel released in 1913.
The following table provides specifications for each coin in the 8-8-08 Double Prosperity Set.
| | | |
| --- | --- | --- |
| | American Buffalo Gold Coin | American Eagle Gold Coin |
| Face Value | $25 | $25 |
| Mint Mark | "W" for West Point | "W" for West Point |
| Composition | 24-karat gold | 22-karat gold |
| Gold Content | 1/2 troy ounce | 1/2 troy ounce |
| Date | 2008 | 2008 |
| Designer | James Earle Fraser | Augustus Saint-Gaudens/Miley Busiek |
| Type | Uncirculated | Uncirculated |
New York spot gold closed today at $948.50 an ounce, which reflects that the coins are marked above today's spot by $350.45.
No order limits will be in place for the new bullion product. In addition to online sales, the Mint will accept orders through their toll-free number at 1-800-USA-MINT (872-6468).