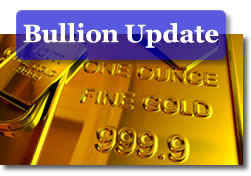 New York gold showed spark early, but gains were dampened by oil's largest daily drop in more than 17 years.
Concerns over a beleaguered financial sector and the U.S. credit crisis weakened the U.S. dollar against the euro, helping gold early.
Then Fed chairman Ben Bernanke testified before the Senate Banking committee. Much larger concerns followed that a slowing U.S. economy would reduce oil demand.
Oil tumbled by more than $10 a barrel from an intraday high and gold followed.
Silver lost 24 cents to close at $19.01 an ounce.
Platinum dropped to $1,981.90 an ounce, losing $54.10.
Gold gained $5 to $978.70 an ounce for the day, but was far off its earlier peak of $989.60.
"Gold would not and could not ignore a sizeable drop in crude oil, despite its recent popularity by safe-haven buyers looking for protection from the financial fallout and that of geopolitics," said Jon Nadler, senior analyst at Kitco Bullion Dealers.

"The other thing is that the depressing prospects of a deepening U.S. recession on the horizon painted by Mr. Bernanke today pulled the rug out from under oil's hitherto one-way marathon and took other commodity hostages with it," Nadler said.
Gold typically follows oil and moves opposite to the dollar, as a weakened dollar encourages investors to buy gold, considered a hedge during times of high inflation and economic uncertainty.
A falling greenback also makes commodities, like silver, gold and platinum, cheaper for overseas investors.
Bullion spots are available on the CoinNews page, Silver, Gold & Platinum Spots.