Weighing in at an arm-wrenching 44.2 pounds (20.08 kg) and a gigantic arm-circling 44.6 inches (116.3 cm), the word's largest silver coin, named the Europe Taler 2008, was unveiled at this year's European Championship of Football in Austria and Switzerland.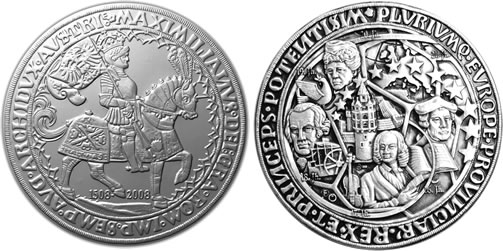 Using the current silver spot price of $16.62 per troy ounce, that makes the coin worth about $23,600 in bullion value alone.
If that's still a little hefty in price… and in weight for you, smaller coins with nearly 4 ounces (120 grams) of fine silver and a diameter of 2.4 inches (6 cm) will be available soon for the price of € 108 (~$168) plus VAT.
The coins will have a limited mintage set to 2,008. As a bonus, packaging of the coin includes "unique pieces from 500-year old wood."
Five of the world's largest silver coins were produced by the Hall Mint, in cooperation with the Australian Mint and the Tourist Association Hall-Wattens, to mark the European Championship of Football 2008 and the 500th anniversary of the first European emperor, Maximilian I.
Obverse coin design
The obverse or front of the coin is designed in the fashion of 500-year-old Taler coins, which first included the word "Europe." It depicts a newly crowned Maximilian mounted in armor on a horse, and bearing a banner with the double eagle imperial symbol.
Translated, the surrounding caption reads: Maximilian, by the grace of God Emperor of the Romans, expander of the empire at all times, Grand Duke of Austria, King of many European countries and most powerful prince.
Reverse coin design
The coin's reverse, which is the subject of European unification and also devotes a reference to the European football championship, features scenes of historic European figures, including: Martin Luther, composer Antonio Vivaldi, inventor James Watt and Nobel Peace prize winner Bertha von Suttner.
These scenes are connected by the mint tower, the symbol of the Hall Mint, which at the same time represents a perspective into the future. Stars, a symbol of European unity, surround the tower and symbolize the transition into the 21st century.
For more information on Taler coins and to purchase 2008 collector versions, visit the Europe Taler 2008 website at http://www.europataler.at. One of the large coins will go on display at the Hall of Tirol, Austria.