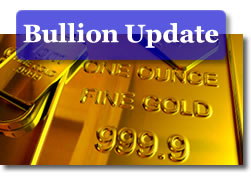 Gold's riotous ride and gains Friday have all but been eliminated this morning with the US dollar's emerging strength and the decline of crude oil
The latter was encouraged through a joint statement by G-8 leaders pledging to affect demand and a comment by Saudi Arabia's oil minister calling Friday's record-breaking $11 rise of crude "unjustified." That was capped with the a call for an emergency OPEC meeting.
As of 10:10 a.m. (ET), New York spot gold was at $878.20 an ounce for a $14.40 drop, silver fell 16 cents to $16.92 and platinum lost $10 to settle at $2033.
While some of that negative energy hit gold yesterday, today's prices appeared to be biased against strong signals from Federal Reserve Chairman Ben Bernanke that inflation will be kept in check and steps taken to ensure the US dollar's strength.
"The Federal Open Market Committee will strongly resist an erosion of longer-term inflation expectations, as an unanchoring of those expectations would be destabilizing from growth as well as inflation," Bernanke commented Monday night.
A possible interest rate hike could be on the horizon. Gold is often used as a hedge against inflation, and rises with it. Gold also typically loses its appeal when the US dollar strengthens.