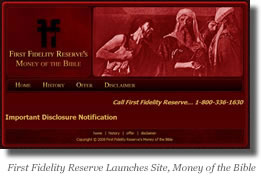 First Fidelity Reserve has announced today the launch of its new coin web site dedicated to coins described in the book "The Money of the Bible."
The site is named after the book and provides information on Tyre Shekel or "Judas Coins" — coins believed to be the same type offered to Judas for betraying Christ.
In a release statement, CEO of First Fidelity Reserve Jason Whitney commented,
"Our goal was to provide numismatists who collect coins of antiquity, a site that gives the historical background of these important coins, called the Tyre Shekel."
Whitney went on to say,
"The temple in Jerusalem accepted only the Tyre shekels as currency. Although it has never been definitively proven, it is a virtual certainty that Judas received Tyre shekels for his traitorous complicity.

At the time, thirty shekels equaled over half a year's wages for skilled laborers. Viewed in an equally dark way, thirty shekels was enough at that time to purchase a slave."
First Fidelity Reserve indicated a number of Tyre Shekel coins have been graded by the Numismatic Guaranty Corporation (NGC), a third-party coin grading service, and are available for purchase.
About First Fidelity Reserve
First Fidelity Reserve was founded in 1988, is a leading coin dealer located in South East Texas. The firm serves thousands of clients across the United States.They are located at 130 Shakespeare, Beaumont, TX 77706 and can be reached at 1-800-336-1630.
First Fidelity Reserve's "The Money of the Bible" site is located at http://www.firstfidelityreservebiblemoney.com/.