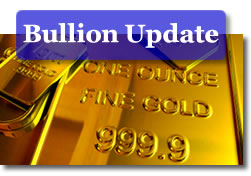 Gold slipped to its lowest level in nearly three weeks with the New York spot price reaching as low as $897.10 an ounce. Gold's more than 2 percent drop on Wednesday was contrasted with a gain in the U.S. dollar against most other major currencies.
While gold is less expensive to countries outside the U.S. when the dollar turns down, it's less attractive with a rise and usually results in lower demand.
"Gold prices came under renewed selling pressure … this time responding to declining crude oil and rising U.S. dollar value," said Jon Nadler, a senior analyst at Kitco Bullion Dealers.

"While the current pause is still seen as a period of consolidation, the risk of a breach of the $900 level remains in place and could take bullion to the $880/$890 area," Nadler said.
Gold hit a record of $1,033.90 an ounce on March 17, 2008. Although it has slid since, there was an undertone of optimism for its eventual rise.
However, the yellow metal seemed troubled in its attempts to break the mental barrier and maintain a price above $950 an ounce.
Gold is now seen as potentially vulnerable to some analysts.
Gold may need "a further period of consolidation/correction before higher levels can be tested," said James Moore, an analyst at TheBullionDesk.com, in a research note.
At 1:50 p.m. (ET), New York spot gold was at $905.90 an ounce. Following its decline were silver to $17.11 an ounce and platinum to $2001 an ounce.