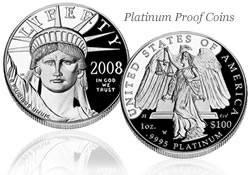 Today the United States Mint made their official announcement for the release of 2008 American Eagle Platinum Proof coins.
This year's coins mark the last"Judicial Branch" design within the three-year platinum coin series entitled "The Foundations of American Democracy." Starting in 2006, each year celebrated one of the three branches of government.
Along with pricing and design descriptions, which has already been discussed in last week's CoinNews article entitled "2008 American Eagle Platinum Proof Coins and Pricing," the Mint also listed the mintage and product limits for the one-ounce, one-half ounce, one-quarter ounce, one-tenth ounce and four-coin platinum set.
Read the rest of this numismatic news article »
{ 0 comments }