Highlights Include the "Riverside Collection" of 19th Century Proof Type Coins and an
Exceedingly Rare Proof 1874 Double Eagle
IRVINE, Calif. – Bowers and Merena Auctions, America's leading rare coin and currency auction house, launches the 2009 auction year with the Bowers and Merena Orlando Rarities Sale on January 4 prior to the FUN Convention.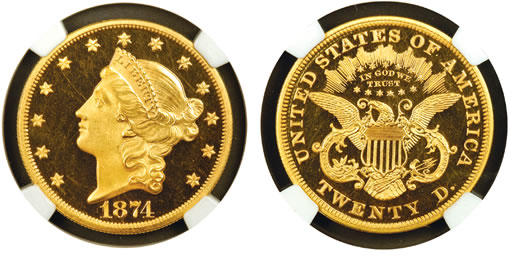 The auction will be held at the International Plaza Resort & Spa in Orlando and begins with lot viewing January 2-4, capped off by the auction on January 4 starting at 4 p.m. EST. Nearly 1,400 rarities will be presented during a single session.
A leading consignment in Bowers and Merena's Orlando Rarities Sale, the Riverside Collection offers an impressive selection of rare, high-quality proof type coins from the mid-to-late 19th century.
Read the rest of this numismatic news article »
{ 0 comments }