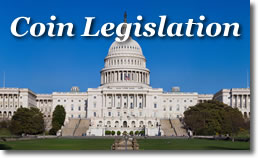 A bill recently introduced by Rep. Melvin Watt [D-NC] proposes a 40-coin, eight-year series of circulating quarters to commemorate and be emblematic of "prominent civil rights leaders and important events that have advanced civil rights in America."
H.R. 6701, "Civil Rights Quarter Dollar Coin Act of 2008," was introduced July 31, and has an already large cosponsor list of 99 representatives.
Most collectors are now familiar with the H.R. 6184, "America's Beautiful National Parks Quarter Dollar Coin Act of 2008," which the House passed July 9 and would continue circulating quarters commemorating national parks and sites for at least 11 years. Like it, H.R. 6701 would authorize a large silver version of the coin measuring 3 inches in diameter and weighting a 5 ounces.
Read the rest of this numismatic news article »
{ 2 comments }