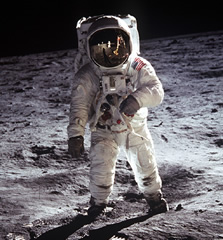 In conjunction with the 40th anniversary of the first lunar landing, Apollo 11 astronauts Neil A. Armstrong, Edwin E. 'Buzz' Aldrin, Jr., Michael Collins and Friendship 7 commander John H. Glenn, Jr., will be awarded Congressional Gold Medals honoring their historic achievements.
President Obama on Friday signed into law the New Frontier Congressional Gold Medal Act authorizing the gold medals and national bronze duplicates struck by the United Sates Mint and offered for sale to the public.
"The Apollo 11 mission inspired a generation to pursue careers in science and engineering, and to believe in the power of America," commented Rep. Alan Grayson, who introduced the House version of the act that passed on the 40th anniversary of the moon landing. "In that moment, these astronauts represented America's destiny, a destiny shared by the thousands of men and women who worked to make it happen."
Read the rest of this numismatic news article »
{ 1 comment }