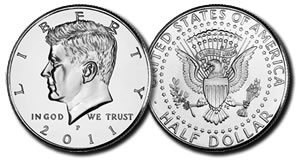 United States Mint coin production fell back for a second straight month in March 2011.
The United States Mint facilities in Philadelphia and Denver produced a combined 485.5 million coins for circulation in March 2011. Philadelphia's share of the total was 289.6 million. Denver's split was 195.9 million.
That registered as the lowest level this year, behind the 523.14 million in February 2011 and the 764.73 million in January 2011. In fact, it was the least amount of coins the United States Mint production for circulation since the 451.96 million in April 2010.
With the exception of the Kennedy half dollar, every type of denomination was minted. The Kennedy's are no longer produced for everyday circulation in the sense that they are not delivered by Federal Reserve Banks to local banks throughout the country like other U.S. coins. Instead, they are only available by ordering bags of the coins from the United States Mint. As such, coin collectors generally dictate Kennedy half dollar demand, not daily commerce needs. The 50c pieces may not be produced for the rest of the year.
The coin production figures did provide the first glimpse of the Glacier National Park Quarter mintages. As a combined total across both Denver and Philadelphia, they are the second least produced quarter in the America the Beautiful Quarters® series.
Coin production totals and breakouts by coin type or available by reading any of the three articles linked below.
US Mint March 2011 Coin Production
Mike Unser | CoinNews.net
Fewer and fewer American coins are getting minted this year for circulation, according to the latest coin production figures published by the United States Mint. Those same figures reveal that the combined mintages for the Glacier National Park Quarter rank as the second scarcest in the America the Beautiful Quarters® series …
US Mint Coin Production Figures Continue Decline in March 2011
Staff | CoinCollectingNews.org
Similar to February, the Philadelphia Mint was the busiest and the Denver Mint slowest. These two facilities are responsible for producing all American circulating coins. Usually by year's end the mintage levels between the two end up fairly close for each type of U.S. coin …
Mint output rises in first quarter
David C. Harper | Numismatic News
What a difference a year makes. Mint coin output in the first quarter of calendar year 2011 is turbocharged compared to the pace set in early 2010. Cent production of 1.0724 billion pieces through March 2011 is almost double the 572.03 million struck in 2010's first quarter …