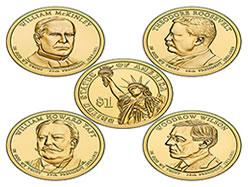 Late last week, on March 7, 2013, the U.S. Mint released its seventh annual set featuring the Presidential dollars for this year in uncirculated quality.
Like last year's set, the 2013 Presidential $1 Coin Uncirculated Set is available directly from the U.S. Mint website (www.usmint.gov) for $16.95. Last year's release may still be ordered from the Mint, as can the set from 2011 but this one costs $3 more at $19.95.
This year's $1 coin uncirculated set has the Presidential $1 coins honoring the 25th through 28th Presidents of the United States. These Presidents were William McKinley, Theodore Roosevelt, William Howard Taft and Woodrow Wilson. Portraits of the men are found on the obverse (heads side) of each $1 coin.
All of the uncirculated sets include a total of eight dollars. Four of them are produced at the U.S. Mint facility in Denver and the other four are produced at the U.S. Mint facility in Philadelphia.
As shown in the U.S. Mint image above, the coins are packaged within a folder that has biographical information about each President along with a printed Certificate of Authenticity.
For reference, a list follows for all released Presidential $1 Coin Uncirculated Sets since 2007 and the Presidents honored on the coins during each year.
Annual Releases
President
Years Served
2007 Dollar Uncirculated Sets
1
George Washington
1789-1797
2
John Adams
1797-1801
3
Thomas Jefferson
1801-1809
4
James Madison
1809-1817
2008 Dollar Uncirculated Sets
5
James Monroe
1817-1825
6
John Quincy Adams
1825-1829
7
Andrew Jackson
1829-1837
8
Martin Van Buren
1837-1841
2009 Dollar Uncirculated Sets
9
William Henry Harrison
1841
10
John Tyler
1841-1845
11
James K. Polk
1845-1849
12
Zachary Taylor
1849-1850
2010 Dollar Uncirculated Sets
13
Millard Fillmore
1850-1853
14
Franklin Pierce
1853-1857
15
James Buchanan
1857-1861
16
Abraham Lincoln
1861-1865
2011 Dollar Uncirculated Sets
17
Andrew Johnson
1865-1869
18
Ulysses S. Grant
1869-1877
19
Rutherford B. Hayes
1877-1881
20
James Garfield
1881
2012 Dollar Uncirculated Sets
21
Chester A. Arthur
1881-1885
22
Grover Cleveland (1st)
1885-1889
23
Benjamin Harrison
1889-1893
24
Grover Cleveland (2nd)
1893-1897
2013 Dollar Uncirculated Sets
25
William McKinley
1897-1901
26
Theodore Roosevelt
1901-1909
27
William Howard Taft
1909-1913
28
Woodrow Wilson
1913-1921