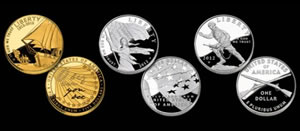 Final sales are known for last year's commemorative coins that the United States Mint stopped selling on Dec. 17, 2012.
Two weekly sales reports from the bureau have since published. The latest one closed the sales totals for the 2012 commemorative coin programs that celebrated the bicentennial of the writing of the American national anthem and the legacy of the U.S. Army Infantry. The former program features Star-Spangled Banner coins while the latter showcases Infantry Solder Silver Dollars.
The following two tables offer the unaudited final sales of the coins and related commemorative products produced and sold by the U.S. Mint. More information about the coins is available by clicking on the links that go to the coin news articles announcing their release.
2012 Star-Spangled Banner Commemorative Coins
Release Dates
Product Sales
Total Coin Sales
$5 Proof
March 5, 2012
6,414
18,313
$5 Uncirculated
7,027
7,027
Proof Silver Dollar
117,512
169,065
Uncirculated Silver Dollar
41,686
41,686
Proof Two-Coin Set
11,899
Bicentennial Silver Dollar Set
June 1, 2012
39,654
Within the 2012 Star-Spangled Banner Two-Coin Set is a proof silver dollar and a proof $5 gold coin.
The 2012 Star-Spangled Banner Bicentennial Silver Dollar Set has a proof silver dollar, a reproduction of one of Francis Scott Key's original manuscripts of his poem "The Star-Spangled Banner," the lyrics to the "Star-Spangled Banner" and information about the national anthem.
2012 Infantry Soldier Silver Dollar Commemorative Coins
Release Dates
Product Sales
Total Coin Sales
Proof
February 16, 2012
111,232
161,218
Uncirculated
44,352
44,352
Defenders of Freedom Set
49,986
The Defenders of Freedom Set has a proof Infantry Soldier Silver Dollar along with a replica dog tag on a miniature chain.