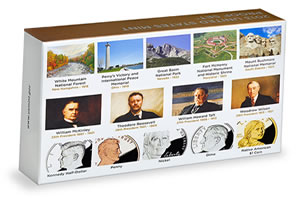 Making its entrance more than a month earlier than last year's issue, the 2013 Proof Set goes on sale at 12:00 noon ET on March 28, 2013.
Priced at $31.95, the set is likely to be the United States Mint's most purchased collector product of the year. Included within it are 14 proof coins from the San Francisco Mint. Each has an "S" mint mark. The coins include the Lincoln cent, Jefferson nickel, Roosevelt dime, this year's five America the Beautiful Quarters, the Kennedy half-dollar, Native American $1 coin and the four 2013 Presidential $1 coins.
Presidential $1 coins and America the Beautiful Quarters have annually changing designs. For 2013, the four Presidential $1 coins feature obverse portraits of:
Presidents William McKinley,
Theodore Roosevelt,
William Howard Taft, and
Woodrow Wilson
This year's America the Beautiful Quarters have reverse designs honoring:
White Mountain National Forest in New Hampshire
Perry's Victory and International Peace Memorial in Ohio,
Great Basin National Park in Nevada,
Fort McHenry National Monument and Historic Shrine in Maryland, and
Mount Rushmore National Memorial in South Dakota
Reverses of the Native American $1 coins also change annually. This year's reverse depicts a turkey, howling wolf and turtle, which are symbols of the clans of the Delaware Tribe. Around the symbols is a ring of 13 stars that represents the original Colonies. The scene reflects the theme of "The Delaware Treaty (1778)."
Though coins in the proof set are of qualities that have sharper detail, extreme shine and mirror-like surfaces, they are composed of the same metals as their counterpart versions for circulation. In fact, they have the same specifications. Here is a breakout of those specifications:
Specifications for Coins in 2013 Proof Set
Lincoln Cent
Jefferson Nickel
Roosevelt Dime
America the Beautiful Quarters
Kennedy Half Dollar
Native American Dollar
Presidential $1 Coins
Composition

Copper Plated Zinc

2.5% Cu
Balance Zn

Cupro-Nickel

25% Ni
Balance Cu

Cupro-Nickel

8.33% Ni
Balance Cu

Cupro-Nickel

8.33% Ni
Balance Cu

Cupro-Nickel

8.33% Ni
Balance Cu

Manganese-Brass

88.5% Cu
6% Zn
3.5% Mn
2% Ni

Manganese-Brass

88.5% Cu
6% Zn,
3.5% Mn
2% Ni

Weight
2.500 g
5.000 g
2.268 g
5.670 g
11.340g
8.100 g
8.100g
Diameter
0.750 in.
0.835 in.
0.705 in.
0.955 in.
1.205 in.
1.043 in.
1.043 in.
19.05 mm
21.21 mm
17.91 mm
24.26 mm
30.61 mm
26.5 mm
26.5 mm
Thickness
1.55 mm
1.95 mm
1.35 mm
1.75 mm
2.15 mm
2.00 mm
2.00mm
# Reeds
N/A
N/A
118
119
150
N/A
N/A
Edge
Plain
Plain
Reeded
Reeded
Reeded
Plain
Edge-Lettering
Obverse Designer
Victor D. Brenner
Felix Schlag
John Sinnock
John Flanagan
Gilroy Roberts
Glenda Goodacre
Variable
Reverse Designer
Lyndall Bass
Felix Schlag
John Sinnock
Variable
Frank Gasparro
Variable
Don Everhart
When released, the 2013 Proof Set may be purchased directly from the United States Mint website at http://catalog.usmint.gov/.
Normally, a prior year's proof set would still be available before the new one is released. However, last year's proof set surprisingly sold out with final sales of 794,002. The previous year's proof set ended with sales of 1,098,835.