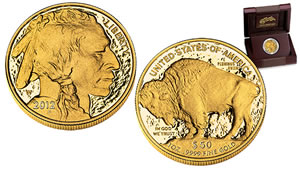 Coin collectors can order the latest 2012-dated American Buffalo Gold Proof Coin from the United States Mint. The bureau placed the 24 karat gold proof coin on sale today, March 15, for $1,960.00 — a price that was determined one day before its release and can change up to once a week based upon the London Fix weekly average gold price.
The 2012 American Buffalo Gold Proof Coin, which has been issued annually since 2006, includes one ounce of 99.99 percent fine gold. It is the highest purity gold product produced by the U.S. Mint to one ounce, although one-half ounce First Spouse Gold Coins also boasts the same purity.
A maximum mintage has not been declared for this year's issue as has been the case in past years, and there is also no indication as to how long it will be available. Last year's coin was released on May 19 and it is still available from the U.S. Mint for the $1,960.00 price. (Its U.S. Mint sales total as of Monday was at 25,802.)
The coin's designs is based on the original 1913 Buffalo nickel, Type 1, as designed by James Earle Fraser. The obverse features a profile of a Native American with the inscriptions 'LIBERTY', the year '2012' and the West Point 'W' mint mark. The reverse depicts an American Bison or buffalo and includes the inscriptions of 'UNITED STATES OF AMERICA', 'E PLURIBUS UNUM', 'IN GOD WE TRUST', '$50', '1 OZ.' and '.9999 FINE GOLD'.
All versions of the proof gold Buffalo coin have a diameter of 1.287 inches, a thickness of 0.116 inches and reeded edge.
The 2012 American Buffalo Gold Proof Coin is available directly from the U.S. Mint's online site at http://catalog.usmint.gov/. Buyers may order as many as desired as there is no household ordering limits in place.