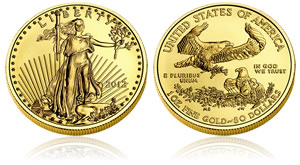 Newly 2013-dated American Gold Eagle bullion coins in one-ounce, half-ounce, quarter-ounce and tenth-ounce sizes debut very early next month. The U.S. Mint will begin accepting orders for the 22-karat gold coins on January 2, 2013.
Inventories of 2013 bullion coins have been building since November as the U.S. Mint prepares for orders through its network of Authorized Purchasers.
This rising inventory includes not only 2013 American Gold Eagles but also 2013 American Silver Eagles. In regards to the latter silver coins, the U.S. Mint's supply of 2012-dated Silver Eagle bullion coins ran out earlier this month, but the Mint will only begin accepting orders for the 2013-dated Silver Eagles on January 7, 2013.
Sales of 2012 American Gold Eagle bullion coins occur almost daily and will through 2013 until inventories are depleted. Generally, to help exhaust older supplies, the U.S. Mint requires AP's to order a certain amount of older dated coins along with the newly dated coins. For reference, American Gold Eagle sales this year through to December 26, 2012 totaled 746,500 ounces. To keep up-to-date on U.S. Mint bullion sales, read the daily CoinNews.net articles about bullion prices.
The U.S. Mint does not sell bullion coins directly to the public but through AP's who buy in volume and then re-sell in smaller quantities to coin and bullion dealers or straight to the public.
American Gold Eagle coins include inscriptions of their weight and of their denominations — one-ounce coins equates to $50, half-ounce to $25, quarter-ounce to $10 and tenth-ounce to $5. They have been sold in four sizes since the American Eagle program debuted in 1986.
Numismatic or collector versions are scheduled for release later in 2013. Proof American Gold Eagle coins have a release date of April 2013. These will be available in four sizes, plus a four-coin set. The uncirculated American Gold Eagle is scheduled to launch in June 2013. It is only released in the one-ounce size.