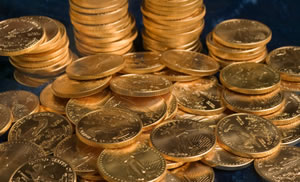 Today, Jan. 2. 2013, the United States Mint began accepting orders from distributors for 2013 American Eagle gold bullion coins.
Sales kicked off strong with every size rising. U.S. Mint bullion products sell through a network of distributors named "Authorized Purchasers." These APs buy in bulk from the U.S. Mint and then resell to coin and bullion dealers or consumers. By size and denomination, AP's today ordered:
40,000 of the one-ounce $50 American Eagle gold bullion coins
5,000 of the one-half ounce $25 American Eagle gold bullion coins
10,000 of the one-quarter ounce $10 American Eagle gold bullion coins
50,000 of the one-tenth ounce $5 American Eagle gold bullion coins
In total, 50,000 troy ounces of gold bullion sold on the first day of release.
This tally compares to last year's opening orders of 37,500 troy ounces on Jan. 3, 2012. Sales of prior-year 2012 Gold Eagles eventually reached 127,000 troy ounces by the end of January and 753,000 troy ounces for all 2012. Read about 2012 annual bullion coin sales.
American Eagle gold coins are in 22-karat gold. That is a composition of 91.67% gold and 3.0% silver with the remaining balance copper. The coins' obverse or heads "Standing Liberty" design is the same as the Saint-Gaudens Double Eagle $20 gold coin produced from 1907 to 1933. Miley Frances Busiek created the reverse or tails "Family of Eagles" design.
As U.S. Mint bullion coins are first purchased by APs, there is some lag time before the newly dated issues become available to consumers. Generally, they are available for a small premium over the spot gold price. Smaller-sized Gold Eagles always have the highest premiums. The premium for the most popular one-ounce American Gold Eagle is often at or close to 3%.
American Eagle gold bullion coins are annually released. They debuted in October 1986.