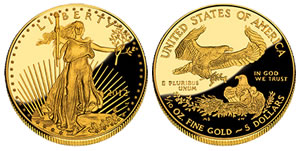 Sales ended for the third of four singly offered 2012-W Proof American Gold Eagles. The smallest $5 coin moved to the U.S. Mint's "No Longer Available" area of the website on Friday, Jan. 11, 2013.
It joined the $10 coin that sold out earlier in the month and the $25 coin that sold out in November. The only individually sold coin that is now available is the largest $50 gold piece for $1,935.
Each coin and the four-coin set with them all went on sale April 19, 2012. With the three smallest sold out, the only way to get them from the U.S. Mint now is to purchase the four-coin set at $3,585.30.
The 2012-W $5 Proof Gold Eagle Coin had sales of 11,680 as of Jan. 7, 2013. Here is a grid with sales across the other coins and set:
| | |
| --- | --- |
|   | LATEST SALES |
| 2012-W $50 Proof Gold Eagle Coin | 13,249 |
| 2012-W $25 Proof Gold Eagle Coin | 3,962 |
| 2012-W $10 Proof Gold Eagle Coin | 4,969 |
| 2012-W $5 Proof Gold Eagle Coin | 11,680 |
| 2012-W 4-Coin Set | 5,527 |
American Gold Eagle products still available may be ordered from the Mint's online store at www.usmint.gov. Prices may change weekly depending on the market value of gold.
Sales of 2013 American Gold Eagle Bullion Coins
In other coin news, sales of newly released 2013-dated American Gold Eagle bullion coins are racing. These investment-grade coins went on sale Jan. 2, 2013. Sales advanced for each of the sizes with a total of 50,000 ounces sold on the first day.
As of Friday, Jan. 11, 2013, sales total 97,500 ounces. With that and with more than two weeks to go for completion, January sales are already the third highest for a month since a year ago. For more on gold and silver bullion sales, read this Coin Collecting News article.