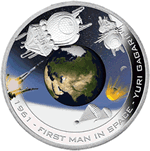 The Perth Mint of Australia has launched an innovative rotating coin commemorating the first man in space. The legal-tender, 1 oz silver coin celebrates the journey of Yuri Gagarin, who became the first person to enter space and orbit Earth for 1 hour 48 minutes aboard Vostok 1 on April 12, 1961.
The limited minted coin marks the second release in the Perth Mint's successful Orbit and Beyond Coin Series.
Gagarin's flight ushered in a new era of manned space exploration that the 2008 Yuri Gagarin silver proof coin memorializes in a most unique way.
The .999 fine silver coin is constructed to rotate or "orbit" around a central brass representation of a colorful earth.
Equally colorful is the outer reverse or tails design bearing a "montage of images" symbolizing Gagarin's journey and the border inscriptions "1961 FIRST MAN IN SPACE – YURI GAGARIN."
Read the rest of this numismatic news article »
{ 0 comments }