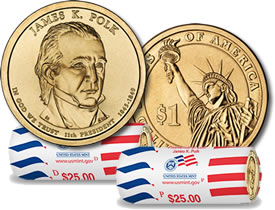 In less than two weeks, James K. Polk Presidential dollar rolls shot past this year's William Henry Harrison and John Tyler same roll sales.
The US Mint launched the Polk rolls Thursday, Aug. 20. As of Sunday, Aug. 30, collectors purchased a total of 31,915 Philadelphia rolls and 30,920 Denver rolls.
By contrast, the first two 2009 rolls of Harrison and Tyler dollars reached 30,000 from each Mint facility. Is this a fair comparison? No. Unlike prior Presidential roll offerings and the latest Polk $1 rolls, the Mint stopped selling each when they reached the 30,000 figure.
The unavailability of Harrison and Tyler rolls has resulted in interesting secondary market premiums. (See current eBay auctions
as examples.) Resellers are sure to be disappointed in the Mint's decision to continue offering the Polk dollars. And collectors as a group are left to wonder what controls how long certain coins will be sold in a particular product line.
Read the rest of this numismatic news article »
{ 0 comments }