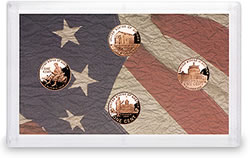 The US Mint in a typical year offers Lincoln proof cents in two coin products. 2009, however, is far from a typical year for the penny given it is the 200th anniversary of Abraham Lincoln's birth and the 100th anniversary of the Lincoln cent itself.
Not only are there four new one-cent reverse designs this year to celebrate the historical occasions, but there are four different 2009 proof set products that the US Mint has produced for coin collectors.
The proof sets offer varying coin denominations within each, and the included cents are special not just for their four designs but for their unique composition. Unlike the circulating varieties, each proof penny is struck from the same metals as the original 1909 Lincoln bronze cent — 95% copper, 5% tin and zinc.
So which proof set should set a collector buy?
Read the rest of this numismatic news article »
{ 0 comments }