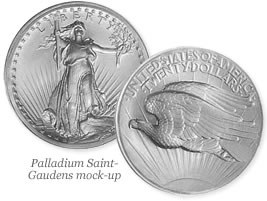 On May 15, the House of Representatives passed H.R. 5614, an act "To authorize the production in palladium of Saint-Gaudens Double Eagle coins as ultra-high relief numismatic coins and bullion investment coins in order to provide affordable opportunities for investments in precious metals, and for other purposes."
Palladium is a silver-white precious metal that is directly above platinum and to the left of silver in the Periodic Table of Elements. Generally speaking, the price of palladium is half that of gold.
The template for the coins is that of the 1907 ultra-high relief Augustus Saint-Gaudens $20 Double Eagle, considered by many to be one of the most beautiful gold coins made in the history of U.S. coinage. The Treasury authorized issuance of a one-ounce gold version of this coin in 2009.
Read the rest of this numismatic news article »
{ 3 comments }