Information provided to Northern California law enforcement authorities by Professional Coin Grading Service led to the arrest of a suspect who is now under investigation in connection with the sales of fraudulently altered Morgan dollars in tampered PCGS holders for nearly $300,000.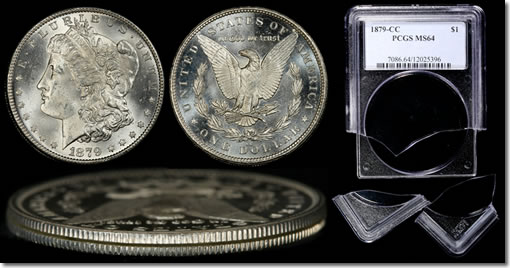 CLICK TO ENLARGE: These four photographs show a tampered PCGS encapsulation holder with a fraudulent insert. When the holder was cracked open it revealed that it housed the pictured coins, a genuine 1879 and a genuine Carson City Mint dollar that were split in two along the rim to create an "1879-CC." PCGS experts believe the diagnostic evidence indicates the 1879 Morgan dollar used in this case most likely was an 1879-S. (Photo credit: Professional Coin Grading Service.)
"Genuine, common date Morgan dollars were split into two pieces (front and back along the rim), then adhered to each other in combinations to create the illusion of rare date and mintmarks. The coins then were placed in tampered PCGS holders to give the coin credibility in the marketplace and to hide the alterations," said Stephen Mayer, Chief Operating Officer of Collectors Universe, Inc. (NASDAQ: CLCT), parent company of Professional Coin Grading Service.
Among the fraudulent alterations were "1883-S," "1884-S" and "1903-S" that were deceitfully labeled as PCGS MS65, MS63 and MS64, respectively.
Read the rest of this numismatic news article »
{ 0 comments }