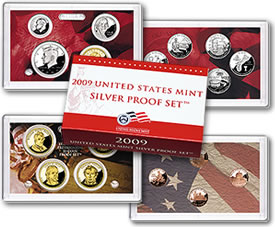 The US Mint on Friday launched the 18-coin 2009 Silver Proof Set for $52.95. The annual set is a favorite with collectors, highlighted by the no longer available 2008 Silver Proof Set with sales of 774,874 as of Sunday.
The 2009 set is actually $8 more than last year's offering, but it also includes an additional silver quarter and four bicentennial 2009 Lincoln cents specially struck in 95% copper, 3% zinc and 2% tin — the same alloy used in the original 1909 penny.
Similar to the fast-selling 2009 clad proof set that was issued by the Mint in June, the silver set contains collector proof versions of circulating 2009 coinage. All coins bear the "S" mint mark denoting they were minted at the United States Mint in San Francisco. Additionally, the dime, half-dollar, and six quarters are struck in lustrous 90 percent silver. The set has an intrinsic silver value of $19.99 at Friday's silver spot price of $13.16 an ounce.
Read the rest of this numismatic news article »
{ 1 comment }