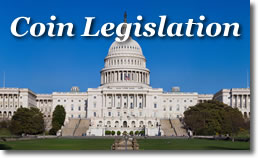 Commemorative coins honoring the bicentennial writing of the Star-Spangled Banner are one step closer to becoming a reality. The U.S. House of Representatives on Wednesday passed its versions of the Star-Spangled Banner Commemorative Coin Act (H.R. 2097) by a roll call vote of 419 to 1, with 13 members absent.
H.R. 2097, like the Senate companion bill S. 653, would authorize the US Mint to strike up to 100,000 $5 gold coins and a maximum of 500,000 silver dollars that are "emblematic of the War of 1812 and particularly the Battle for Baltimore that formed the basis for the Star-Spangled Banner." The coins would be minted in 2012.
Surcharges of $35 for each gold coin sale and $10 for each silver coin sale would be paid to the Maryland War of 1812 Bicentennial Commission for the purpose of supporting bicentennial activities.
Read the rest of this numismatic news article »
{ 1 comment }