The Royal Canadian Mint (RCM) launched the Olympic Snowboarding 25-cent coin into circulation on Feb. 20, 2008. Now the Mint is offering a special limited edition $25 silver hologram snowboarding coin as well.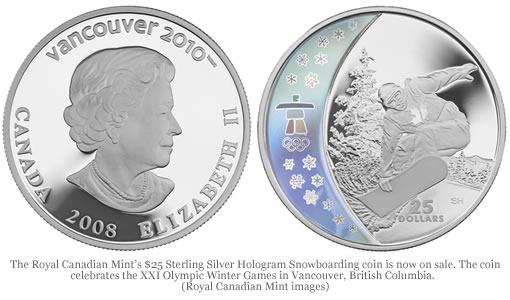 Like its circulating 25-cent cousin, the innovative hologram coin celebrates the XXI Olympic Winter Games in Vancouver, British Columbia.
The $25 sterling silver coin is part of the Silver Hologram Coin Series, which includes 15 different designs or themes. The snowboarding theme is the first for 2008 and the sixth in the hologram series that will continue through the end of 2009. Only 45,000 coins will be minted for each theme.
Read the rest of this numismatic news article »
{ 0 comments }