The Perth Mint of Australia on the first of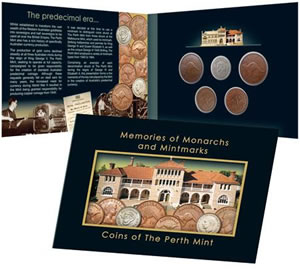 October began offering a historic five-coin collection that contains pre-decimal copper coins struck at The Perth Mint between 1940 and 1964.
Unlike new, commemorative, silver or gold coin products that are common from government Mints, these coins have traveled through many hands and are in choice circulated condition with signs of wear. For these coins, it's about their history. According to the Mint's website,
The Perth Mint began striking pre-decimal coinage on an annual basis from 1940. Producing many millions of copper coins, the historic Mint struck pennies and halfpennies for King George VI and Queen Elizabeth II, as well as the unique King George VI 1946 Shilling.
The five-coin set contains examples of these historic denominations and are encapsulated within a 'Coins of The Perth Mint' presentation folder with information for each coin type.
Read the rest of this numismatic news article »
{ 2 comments }