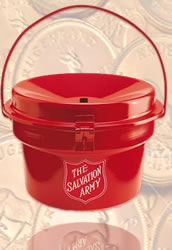 Dozens of Salvation Army bell ringers experienced an amplified feelings of generosity from gift givers this year. There were reported accounts of over 30 gold coins donated in Salvation Army kettles.
There's likely many more. It's nearly impossible to track special coin donations on the national scale through news accounts.
Anonymous donors in the Chicago area alone have reportedly given at least 15 gold and nearly 60 silver coins. Although each was given by someone with a generous heart, most don't make the news as there's no face and resulting story to associate with the person giving.
And let's not forget, the bread and butter of the red kettle campaign comes through the donations of every day people providing a bit of their pocket change before entering or leaving a store. There's hundreds of thousands of storied to be told.
But still, it's interesting to take in the uniqueness of kettle gifts that have included platinum, gold, silver and rare coins, gold bars, nuggets, rolled $100 dollar bills, rings, and even a gold tooth here and there.
Read the rest of this numismatic news article »
{ 0 comments }